Finishing the Food Rainbow with Blue and Purple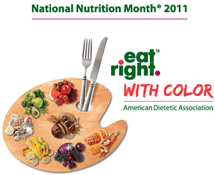 This year's National Nutrition Month theme "Eat Right with Color" gave us tastes of the rainbow. In our final week of National Nutrition Month, we'll continue to celebrate delicious foods filled with color by highlighting the health benefits of blue and purple foods. Blue foods and purple foods are delicious and go hand in hand because they have many of the same nutrients. They are packed with vitamin A, vitamin C, and many of the B vitamins. These vitamins maintain your immune and nervous systems.
Vitamin A is needed for vision and it plays a role in developing every single cell in your body (such as keeping your skin healthy). Vitamin C is needed for healthy cells, bones, teeth, gums, and blood vessels. The B vitamins help your body use the energy found in the foods you eat. Blue and purple fruits also contain soluble fiber. Soluble fiber is important for cholesterol control and it helps you feel full between meals. Blue and purple foods also have antioxidants that may improve short-term memory and reduce the risk of some chronic illnesses.
What are your favorite blue and purple foods? You may be thinking about blueberries, grapes, or raisins, but there are so many more yummy fruits and vegetables that are blue or purple! Some other delicious choices include eggplants, purple cabbage, purple potatoes, blackberries, plums, cranberries, and beets.
The CYWH's "Quick and Easy Recipes for Teens" cookbook has lots of recipes with blue and purple foods as the main ingredients.  Here two recipes we love:
Black and Blue Berry Smoothie
Ingredients:
2 cups blackberries
2 cups blueberries
1 cup low–fat blueberry yogurt
1 cup 1% milk
1 teaspoon vanilla extract
2 cups ice
Preparation:
Place all ingredients into a blender.
Blend until smooth and foamy.
Serve immediately.
Makes 4 servings
Blueberry Cranberry Muffins
Ingredients:
3 ½ cups of flour
½ cup sugar
4 teaspoons baking powder
½ teaspoon salt
1 ½ cups skim milk
1/3 cup vegetable oil
½ cup egg substitute (or 2 eggs)
4 cups fresh or frozen blueberries, unthawed and drained if frozen
4 tablespoons sugar
8 ounces dried cranberries (about 3 cups)
Muffin liners or non–stick cooking spray
Preparation:
Spray muffin pan with non–stick cooking spray or line 24 muffin cups with liners and set aside.
Preheat oven to 350°.
In a large mixing bowl, combine flour, ½ cup sugar, baking powder, and salt and stir to mix.
Combine milk, oil, and egg substitute in a medium bowl and beat with a wire whisk until blended.
Combine dry and liquid ingredients and stir until just blended.
In a medium bowl, combine 4 tablespoons of sugar, blueberries, and cranberries, and toss to coat with sugar. (If you're using frozen blueberries, first thaw them out and drain off any extra liquid.)
Stir in sugar coated berries gently into batter just until berries are distributed.
Spoon batter into muffin cups, filling ¾ full.
Bake for 20–25 minutes, until light golden brown and firm to the touch.
Let cool on wire rack 3–4 minutes, then remove muffins from pan and cool completely on wire rack.
Store muffins in a tightly covered container at room temperature.
Makes 24 servings
-CYWH Staff