Sensationalist Media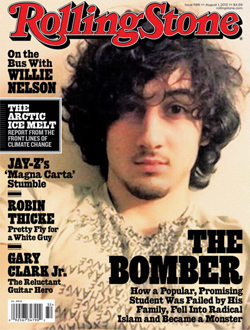 Who wouldn't want to be on the cover of a magazine? On July 16th, 2013, Rolling Stone (a popular music magazine) announced via Twitter that they would feature a suspected Boston Marathon bomber Dzhokhar Tsarnaev on the cover of their August issue. Since releasing the cover photo, which shows a relaxed Tsarnaev, there's been a storm of angry responses by the public, especially Bostonians. Rolling Stone usually puts rock stars or other celebrities on their cover, and many think that by giving Tsarnaev this space, that it will lead to positive attention.
As a Bostonian, I feel hurt by what Rolling Stone has done. Why wouldn't the magazine highlight the courage and strength of one of the victims of the bombing? Or put a Boston medical professional or rescue worker on the cover? Using positive imagery (instead of one that evokes fear and sadness) could have helped the city continue to cope with the tragedy. As of this afternoon (July 17th), CVS Pharmacy and local convenience store Tedeschi Food Shops have announced that they won't be carrying this issue in their stores.
Rolling Stone has a history of putting controversial images on its covers and being involved in "sensationalist media". Sensationalist media is when magazines, newspapers, TV, and other news sources purposely tell stories or show images that bring out a lot of both positive and negative emotions. This makes people more interested in the topic and helps the company make money. Rolling Stone is getting a lot of attention on Twitter, Facebook, and other news media sources, which increases traffic to their website – and will likely increase the sales of their magazine this coming month.
I feel the best way to respond to Rolling Stone's action and other sensationalist media is to ignore it. By feeding into the hype, you're give the magazine more attention than it deserves. If you do feel upset or angry about this, or it brings back sad memories from the bombings, talk about your emotions with an adult you trust.
-Olivia