Introducing Monica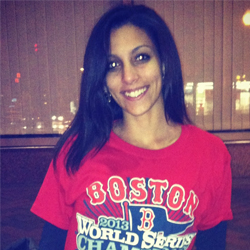 Hi! My name is Monica. I'm one of the new youth advisors at the Center for Youth Women's Health (CYWH). I'm seventeen and a junior at Boston Latin School. I'm a friendly and dedicated person who loves to meet new people. I'm involved in a variety of activities including working at a bakery on Saturday mornings, swimming five days a week during the fall season, and serving on the Boston Children's Hospital Youth Advisory Committee.
Around three years ago, my cousin Erica (who also works in the Center for Young's Women's Heath) messaged me on Facebook. She told me that her employer was hiring teen girls who were interested in becoming youth advisors. At that time I was fourteen years old and eager to make my own spending money instead of constantly having to ask my parents for some. Without asking her any questions, I thanked her around ten times and eagerly proceeded to send an email to the hospital concerning the job position. I anxiously waited for their reply, but when I got it, it read, "Sorry but you must be at least sixteen years old to apply for this position." Even though I was disappointed with the response, I soon learned that in order for you to work in most places, you have to be at least sixteen. I knew I would have to wait two more years, but as soon as I turned 16, I emailed the CYWH again with hopes that this time I would get a more satisfying reply.
Even though the interview process was a little bit nerve wracking, I managed to get through it. I started off volunteering once or twice a month and helped out with training the pediatric residents. After four or five months I was offered a position.
Working as a youth advisor is a once in a lifetime opportunity that will enable me to seize new skills and further develop the ones I already have. Even though today is my first official day of working at the Center for Youth Women's Health, I am ready to be part of this community and I am looking forward to what lies ahead.
-Monica